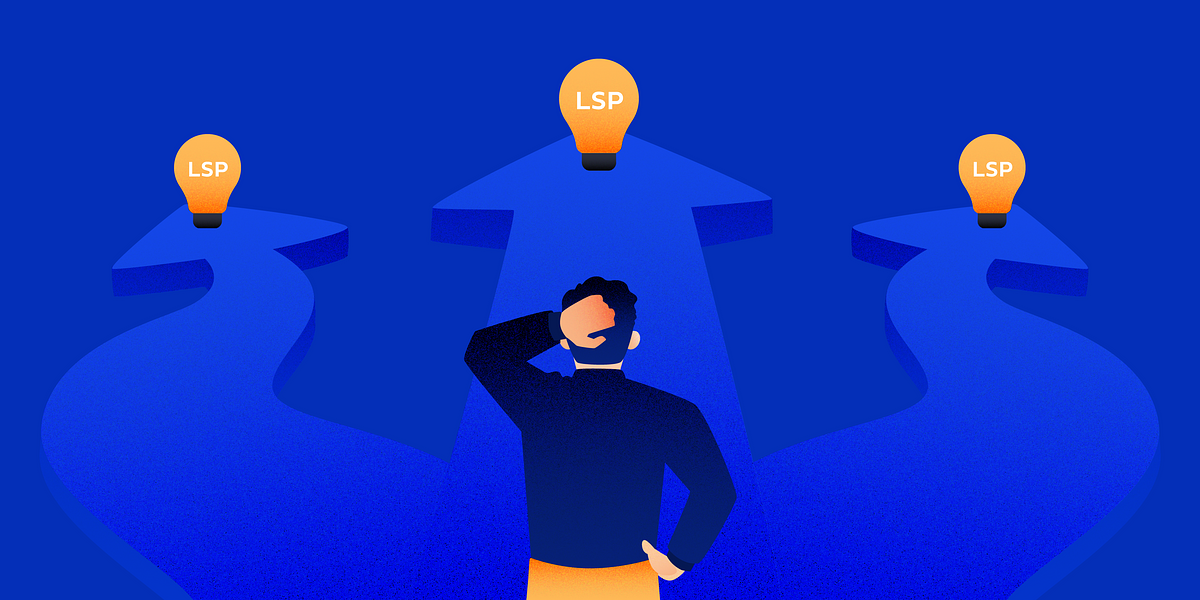 Choosing the right LSP: What you really need to know
Choosing a Language Service Provider can be a challenging journey involving many questions. What service or services will they deliver? How much will it cost? Can I trust them to understand and represent my brand? Are they reliable?
For any company wanting to connect with multiple audiences or expand into new markets, an LSP is an indispensable resource. Offering services such as translation, transcreation, localisation, international SEO, asset management, file formatting and more, the right partner can rapidly increase your time-to-market and help you to efficiently establish a presence in your target space.
In this guide you'll find the key steps you need to take in order to choose the right LSP and move forward with confidence.

1. Understand your key drivers
You can't spot the right match if you don't know what you're looking for, so having a clear idea of your needs and why you need support is essential. Consider your business objectives, budget and project characteristics and get as much clarity as possible on your priorities. Use the questions below to help you:

What do you want to achieve? What current barriers are in the way?
How important is speed to you? Do you have a tight deadline in mind?
How much are you willing to pay, and for what?
By putting your project and goals in the foreground, you will be better positioned to rate the relative importance of key factors and look for a provider that aligns.

2. Identify the services you need
Today, many LSPs offer more than just translation. Depending on your project scope, you might need to build a mixture of services into your pricing plan, so it's beneficial to familiarise yourself with industry jargon before starting a conversation with sales.

Translation (T)
Translation-Editing-Proofreading (TEP)
Machine Translation with Human Post-Editing (MTPE)
The type of service you select will be influenced by your objectives and drivers. If you're looking for a good balance between quality and speed, an MTPE service might be the best solution. If you need support handling and formatting complex design files, desktop publishing (DTP) is essential. And for marketing collateral or other creative content, a transcreation approach will be needed.
In most cases, your LSP will become an extension of your operations, working by your side and integrating tools and resources seamlessly. For this reason, establish your requirements and be transparent about your current set-up so you can manage expectations from the start and cultivate a truly collaborative relationship.

3. Evaluate the quote
When you've identified a group of LSPs that align with your needs and offer the services you require, you should reach out to them individually to learn about their pricing structures (or request quotes if you have a particular project in mind). Ask all the questions you need to gain full clarity on what the quote does and does not cover, so that your price comparison research is fair.
For example, some LSPs may integrate a Linguistic Quality Assurance (LQA) process while others may require additional payments to implement the review. One provider might incorporate automatically translated strings, while another might consider it an extra service. Some LSPs also add extra fees for project management or appear cheaper but only because their offering might lack specific tools or technologies.

4. Consider specialist knowledge and tools
When expanding into a new market, your website, packaging and other content will play a huge part in shaping the way your brand will be perceived by prospects. Low-quality translations can undermine your credibility, plant doubt or even cause offence. For this reason, seeking an LSP that is well versed in your industry, and offers expertise in your niche, can be a smart strategy. Their specialist linguists will be fully immersed in the grammatical and cultural norms of their region, and will be able to advise on sensitive issues like tone, register, word connotations and even use of colour in designs.
When selecting an LSP, investigate whether they will have the resources you need to make an impact and represent your brand in a positive way. What processes do they put in place to monitor and maintain quality? What certifications do they hold and what selection criteria do they use for recruiting linguists? Asking whether they have worked on similar projects or have proven experience in a key vertical can also help you to assess their suitability.

Choosing an LSP is not easy, and the journey will be different for everyone. A common mistake is to overly fixate on one factor, such as low price or delivery speed, without critically assessing their full offering in relation to your needs. Ultimately, your partner should be ready to listen, understand your key drivers and deliver the results that matter to you.
Whether you're already experienced or brand new to localisation, Travod International will provide the guidance you need to overcome your unique challenges. Set up a call for more information or request a quote using our intuitive portal.




About Travod
Travod is a global provider of expert language services and agile technology solutions for businesses worldwide. Providing culturally localised content, Travod offers a full range of translation services in 100+ languages. Our international team of 130 in-house employees and over 5,000 specialist linguists work together to provide a bespoke service for more than 6,000 organisations and brands. Travod is fully ISO 9001 and ISO 17100 certified, demonstrating its ongoing commitment to the highest standards of quality in the translation industry. Travod is part of Mondia Technologies Group.

Subscribe for more
Stay up to date with the latest articles, news and translation insights
---