We are language professionals
A full-service translation and localisation service from expert linguists and project managers in prime industry sectors:
Translation & Localisation
Desktop Publishing
Media Localisation
Website & Software Localisation
Serving more than 6,000 global brands worldwide
An end-to-end translation ecosystem that helps you deliver your stories globally, on time, in any language.
ISO certified
Our ISO 9001:2015 and ISO 17100:2015 certifications reinforce our commitment to the highest standards of quality in the translation industry.
Subject matter expertise
A trusted network of translators, linguists, reviewers and interpreters with relevant certified degrees and long-standing professional experience.
Agile technology
Proprietary technology developed in-house and top-market translation tools support our flexibility in meeting localisation challenges every day.
On-time delivery
Removing content localisation bottlenecks and increasing the efficiency of global content flow, through specially developed technology to control and automate workflows.
Scalable workflows
We build localisation teams with seamless collaboration by implementing proven project management techniques, scaling and adjusting the processes according to your requirements and needs.
What our clients say about us
Our clients appreciate us for our responsiveness, reliability and friendly customer service.
I have found Travod's approach to be pragmatic in providing solutions which best fit my requirements and they deliver to agreed timelines and standards in all cases. Charges represent value for money, as the process from end-to-end is simple and streamlined.
Dave Rogers
Corporate Training Manager at Swissport
Travod has exceptional response times, are always professional and ready to go the extra mile to make sure they meet our every translation need. Even when I needed a high volume of manuals translated into multiple languages within a month, they came through.
Laura Beyers
Technical Documentation Specialist at CLIMAX Portable
We highly appreciate the responsiveness of Travod team, always keen on helping you find a solution and receive feedback after delivery. They help us manage our website content in 8 languages, perfectly understand SEO challenges and deliver good quality work.
Nicolas Arnaud
Marketing Manager at LunaJets
I appreciate Travod for the quality and quick service. We often have urgent projects, and Travod never failed to deliver an accurate translation by the requested deadline. By implementing the localisation tool, we finally have transparency in the process.
Jacqueline Dulauroy
Global Category Manager - Indirect Procurement at Swissport
With 290+ locations around the world, we're pleased to utilize Travod to assist us with our international communications. They help us maintain messaging consistency, regional differentiation on a global scale and efficiently market our value-added solutions.
Global Marketing Communications team
We were looking for one unique partner to handle translations in different languages, and Travod presented a professional solution backed up by clear and fast communication. They delivered the project within the scheduled time with minimal assistance from us.
Simone Drera
VP of Business Development at Flexxaire
We have experienced great communication with Travod. Every inquiry we make about translation projects is addressed appropriately and in a timely manner. The translated files we receive are always laid out neatly and the team does a great job recreating images.
Liesbeth de Jonge
Owner of Vertaalbureau JTS
Recent resources
Find inspiration on what translation can mean for your business.
Get the findings from our latest white paper
What are the fundamental elements that ensure a high-quality translation? Our white paper lists the key areas which underlie the success of any translation project.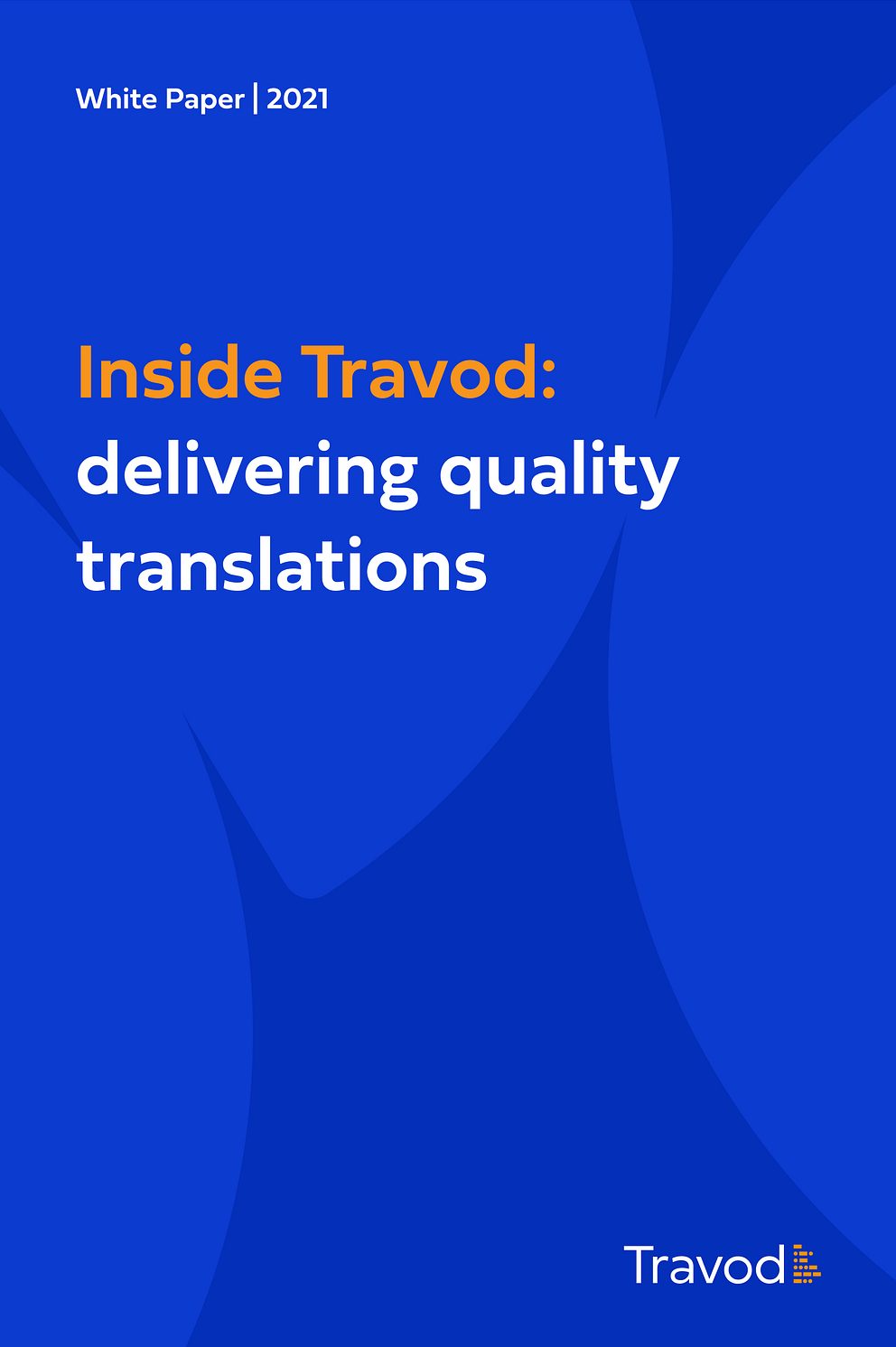 ---