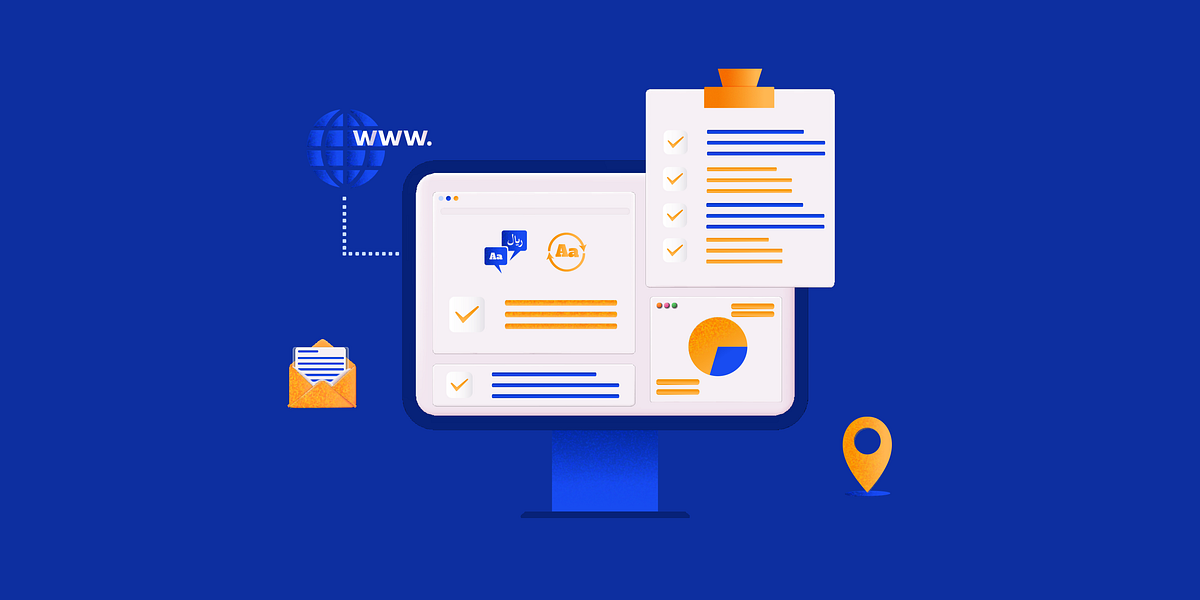 The checklist for a successful website localisation
The main objective of website localisation is to provide international visitors and buyers with an online website experience that is indistinguishable from their normal native experience. In our previous article in the series, we enumerated the benefits of having a localised website; now it is important to focus our attention on how we can achieve a successfully localised website.
A localisation project usually starts with content translation. According to the CSA, providing an accurate description in the user's native language doubles the conversion to sales. Before you get to the translation itself, however, there is some serious prep work to be done, and if you fail to approach localisation in a systematic way, you will lose time, effort and money, and worst of all, your customers will not be impressed.
Apart from the short and long term goals, there's the need to define a localisation strategy, which goes way beyond merely submitting texts to translators. We've prepared a list with some factors to take into account and steps to follow to have a successfully localised website.
1. Determine the target languages
When determining the target languages for your website, you will not want to just choose the big economies and translate for those markets, but to make the right choice to benefit your audience and business. There are a couple of questions which you need pay attention to:
Which geographies are you targeting and who are your target customers?
Which countries represent the most traffic on your website and what languages do they speak?
What are the markets' growth rates?
How much competition is there?
What are your customers' buying preferences?
Will your service portfolio differ significantly from market to market?



Starting with 1 or 2 core languages can help you to see the results of your efforts, before expanding further.

2. Setting up the budget
We can say that everything comes down to budget, and the more we spend the better the results, but let's try not to bankrupt ourselves. Depending on the size of the team which will take care of the website translation project, and the cost of your Content Management System (CMS) and various add-ons, you need to think in terms of volumes of words. The main rule is that the higher the volume, the higher the cost.
Most translation service providers charge in proportion to your website word count, including regular content, navigation menu, buttons, dialogue windows, slugs, meta descriptions and others. But each type of content can and should be treated differently in terms of pricing. Having a customised approach to content localisation will always reflect positively on the overall costs.
Tip: Ask your provider if they have machine translation (MT) solutions. A part of the content, mainly that related to navigation and e-commerce functionality, can be and sometimes should be translated via MT.

3. Defining technical capabilities
Your website content lives in a CMS, which should be prepared technically to receive content in multiple languages. Technically speaking, your system needs to have repositories that will host different translations of the same text copy. From a simple WordPress website to customised CMS monsters, all of the systems have this option: you just need to check how it is going to be managed with your IT team.
Along with the IT Team, you have to be prepared for the possibility that the code might need to be updated or localisation issues addressed. We've listed below some aspects to consider:
Decide how to display the default language in a locale;
Choose how to display the content in a right-to-left layout (Arabic, Hebrew);
Determine how much character space is needed to present the content in other languages
Select the way to display special characters and choose the right encoding for them (such as UTF-8, UTF-16, etc.);
Remove any hardcoding of dates and currencies;
Be careful to display the right calendar for the location;
If the mobile version differs from the desktop, find out how it will affect localisation;
If you have an online store, find out whether the e-commerce functionality also supports translation;
If you have user-generated content, like reviews, online chat, or forums, will they stay out of scope?
If you integrate your website with marketing automation, email, Product Information Management (PIM), or CRM systems, will this content also be included in the scope?
Despite the scary-looking list, your IT team will be able to answer most of these questions, or do quick research to advise your website translation team on strategic decisions and your next steps.
Import or export content and data
Whether this is done on your side or with the help of your translation vendor, you will need to sort out the export of content and work on step-by-step workflows. As the translation part is usually taken care of by translators, you should just focus your attention on how to upload translated content back into your system.
Depending on the complexity of your CMS and overall content structure, the export and package preparation can take anything from a couple of hours to a week.
Even if your website is a corporate one that's not very big and seems pretty straightforward, you will be amazed at the process discrepancy between preparing the main content versus system content, and how it can affect your project timeline. For most CMS's, general content such as paragraph block copy, headers, subheaders, product/service descriptions, Terms & Conditions etc. belong to global templates that are easily exported, translated, and then just as easily implemented. System content such as buttons, dialogue boxes, pop-ups, hover tooltips, slugs, categories, tags, form fields and various add-on components live their own life and might require a customised approach and completely different workflows. If you don't have a webmaster that can do it for you, it's best to hand it over to your translation vendor, who has experience with your CMS.
New Content and Updates
One of the key questions that pop up in website localisation projects is how often updates or new content will arrive. Imagine copy-pasting new content daily from a text file or having multilingual updates for certain paragraphs. It will become a nightmare. Even if you have staff to do it, the error margin is high due to human factors.
While the odd update can easily be handled by a single manager on an on-demand basis, constant updates need a structured process, and are better handled by widgets and API-based integrations that will help you move new and updated content easily, quickly, and with fewer errors. It's best to look for specialised website translation software (eg. Transifex or Lokalise) which have out-of-the-box solutions. Alternatively, your translation vendor may have customised solutions as part of their service offering which will integrate with your CMS and pull and push content automatically, at a moment's notice.

4. Content considerations
Prepare your termbase
Before you start your localisation project, prepare a list of terms used in your store or in the industry that you operate in, and that need to be consistently translated across all languages. Pass this list to your translation partner so that their team can work on expanding and updating your glossary for different languages. The glossary will be used together with computer-assisted translation tools (CAT tools) which will allow you to keep your terminology consistent across all content on the website and in other documents and media.
Think through your SEO strategy
Invest time and resources in keyword research, because the slightest difference in terminology can make a huge difference when it comes to buyers' purchasing decisions. Also pay attention to title and meta description lengths in different languages, because if your title is too long, your potential customers might miss important information when first clicking through to your website.
Localise your visual content
Prepare your multimedia content for localisation, decide whether you want your videos dubbed by professional actors, or if you want to keep the original voiceover and use subtitling instead. Decide whether your images are culturally appropriate for the different audiences you're trying to reach; if not, adjust where necessary.
Localise your digital media
Are the contact forms, transactional emails, webchats, subscription pop-ups, banners, booking apps, and the various widgets connected to your website, included in your translation scope? We believe they should be if you want your audience to have an aligned native language experience. Make sure that your web apps can support multiple languages, and check your email subscription tools as well as all email and marketing copy, to ensure they are in line with your global brand image.
5. Choosing your translation provider
When you get to the stage of vendor selection, you need to outline key factors that will determine your project timeline, quality and costs.

Each of the criteria involves a cost, either on your side or for the LSP. Depending on the size and type of your website, a website localisation project will consume resources, both time and money. Align your priorities and internal capabilities, and it will help you form your project budget and designate team members involved.
Does your translation vendor specialise in website localisation? What is their experience with your CMS? It will help you include or disqualify them straightaway.
Does your vendor handle SEO translation? Not every LSP can do it, and this is a key component for your website success on the internet.
Will you have an in-house localisation team or are you planning to leave project operations to the LSP? Marketing/content team aside, there might be costs involved for project management and support, while some LSPs do it for free as part of their service offering.
Do they have MT solutions for your website? This may not apply to your website content and the languages you want to translate, but it's best to discuss it with a localisation advisor. If it does apply, it will help you save costs.
Do you have a deadline in mind and how tight is it? Some LSPs charge more for urgent projects.

Whether you sell something on your website directly or through a chain of personal interactions, you want to have a website that represents you on a global scale and multiplies your sales figures. Even if this is supported by your international operations, website localisation alone can drive a significant part of it. Make sure you plan ahead and carefully choose your team and partners who will help you craft a multilingual website that brings you global awareness, a bigger market share, increased revenue and customer loyalty.
If you have a website translation project in the pipeline or are thinking about it, we can help you with your strategy, advise on planning, and get you a good translation deal. Let's discuss it and discover all the opportunities it can bring.

About Travod
Travod is a global provider of expert language services and agile technology solutions for businesses worldwide. Providing culturally localised content, Travod offers a full range of translation services in 100+ languages. Our international team of 130 in-house employees and over 5,000 specialist linguists work together to provide a bespoke service for more than 6,000 organisations and brands. Travod is fully ISO 9001 and ISO 17100 certified, demonstrating its ongoing commitment to the highest standards of quality in the translation industry. To find out more about Travod, please visit www.travod.com. Travod is part of Mondia Technologies Group.
Subscribe for more
Stay up to date with the latest articles, news and translation insights
---